Screenings / Contemporary art documentaries
WASTE LAND & THE UNIVERSE OF KEITH HARING
Two days of full immersion in the cinema and contemporary art world, for discovering the interactions that happen when cinema, in the form of documentary films, chooses to illustrate the contemporary art world. In this sense it is possible to search for and discover at first hand the artist's mind and imagination and see how his ideas and projects gradually become real as they develop from his source of inspiration.
On this occasion there will be presented, first time in Milan, the following two documentary films:
•  "Waste Land" by Lucy Walker, about the Brazilian artist, Vik Muniz
•  "The Universe of Keith Haring" by Christina Clausen, about the great Pop artist.
Demetrio Paparoni, curator and art critic, will introduce the film Waste Land, while Gianni Mercurio, curator and one of the most important Italian experts on Pop Art, will present the screening of the Keith Haring film.
These two introductions will explain the work and the development of some of today's major performance artists in order to convey the richness of the experiences that make up the multifaceted panorama of contemporary creation. Showing the artists' world through cinema means to reveal a world that is often distant and difficult to grasp. These documentaries will be a rare chance to listen to artists talking about their work and to come to know them intimately, to enter into their studio, and to be present at the artwork's birth.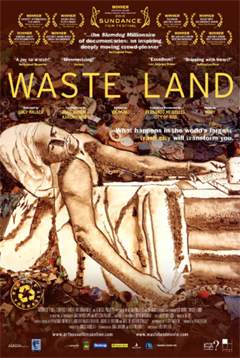 WASTE LAND
BY LUCY WALKER
(Brasil, UK 2010, 98 min)
Filmed over nearly three years, WASTE LAND follows renowned artist Vik Muniz as he journeys from his home base in Brooklyn to his native Brazil and the world's largest garbage dump, Jardim Gramacho, located on the outskirts of Rio de Janeiro.
There he photographs an eclectic band of "catadores"—self-designated pickers of recyclable materials. Muniz's initial objective was to "paint" the catadores with garbage. However, his collaboration with these inspiring characters as they recreate photographic images of themselves out of garbage reveals both the dignity and despair of the catadores as they begin to re-imagine their lives. Director Lucy Walker (DEVIL'S PLAYGROUND, BLINDSIGHT and COUNTDOWN TO ZERO) and co-directors João Jardim and Karen Harley have great access to the entire process and, in the end, offer stirring evidence of the transformative power of art and the alchemy of the human spirit.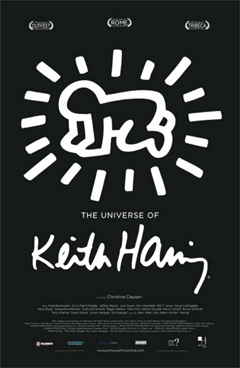 THE UNIVERSE OF KEITH HARING
BY CHRISTINA CLAUSEN
(Italia, Francia 2007, 82 min)
The Universe of Keith Haring by director Christina Clausen is an intimate portrait of world-renowned artist Keith Haring whose mantra was that "Art is for everyone!"
The film is a thorough and intimate exploration of the background and career of one of the most popular and significant artists of the 20th century. The film features interviews and archival footage of Fab 5 Freddy, Jeffrey Deitch, Kim Hastreiter, Grace Jones, Madonna, Yoko Ono, David LaChapelle, Kenny Scharf, Carlo McCormick, Andy Warhol, Ann Magnuson, Tony Shafrazi, and Junior Vasquez, among many others. Audio excerpts from original interviews with Keith Haring, were conducted by Haring's biographer John Gruen.