Memphis
Memphis, Refettorio delle Stelline, Milan, 7/4/2014 – 17/5/2014
At the Refettorio delle Stelline, in Milan, from April 7 until May 17 2014 was presented the exhibition MEMPHIS, produced and organized by Fondazione Gruppo Valtellinese in collaboration with MADEINART. The show was the most extended exposition of Memphis design ever performed in Milan – city where the last case of against-design of the XX century has born, in 1981.
[Not a valid template]
Set up on the longitudinal axis of the Gallery, the object of the Memphis trend protagonists will march like unclear, playful and ironic characters of a season characterized by positivism and by a narcissistic lack of scruples.
Post Modern style icons – and of the stratified and contradictory language of the '80 – these objects stands out for their showy love for the quote, for the semantic editing and for the combination of industrial materials on very high standard of Italian handicraft. The exhibition opens with an optical and sensorial tribute to the "evanescent decade", with laser-graphic projected in the Gallery ceiling, surprise visit of the protagonists and a special sound effect carpet.
The event, inaugurated on the occasion of the 53° design Week, is a collaboration with POST DESIGN, the brand under which the Memphis Company produces new collections. Designed by Ettore Sottsass together with Alberto Bianchi Albrici, additional works by Sottsass have been presented under the Post Design brand, including collections of some of the most important artists on the international scene such as Johanna Grawunder, Pierre Charpin, Denis Santachiara, Nathalie Du Pasquier, George J. Sowden, Nanda Vigo, Alessandro Mendini, Markus Benesch, Alberto Biagetti, Ron Arad and Richard Woods.
Post Design is also the name of the Milanese gallery that hosts all Memphis initiatives.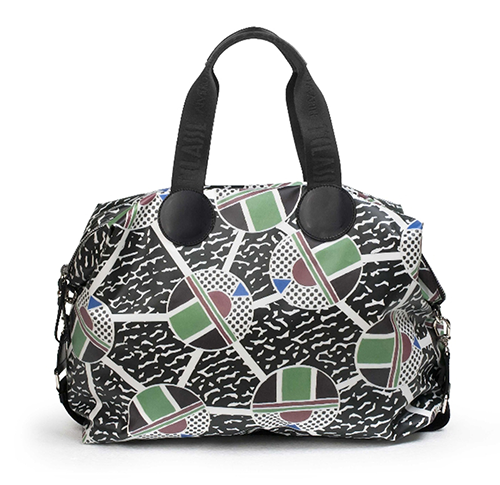 In this context MADEINART involved the brand 1A Classe, which presented a special bag, realized in collaboration with Nathalie du Pasquier, one of the international artisi and designer who has contributed most to make renowed worldwide the Memphis design. The bag is not only produced for the exhibition, ma it is inspired to this art: the pattern is a variant of the drawing by the artist titled "Cerchio" (1983). Is a travel fabric soft bag, with leather shoulder strap and handles.
The bag has been exhibited at the venue during the exhibition and then on view in 1A Classe showroom in Milan.